Best Treatment for TMJ Disorder
As your bite is different from everyone else, treatment must be specific to your arrangement of teeth which has contributed towards your disc derangement/displacement and unique collection of TMJ symptoms.
Fully protective occlusal splints are the best treatment for the relief of TMJ symptoms and treatment for the TMJ Disorder (TMD). These splints focus on a 'Dynamic Occlusion' (or bite) and are a key process that gives patients a starting point.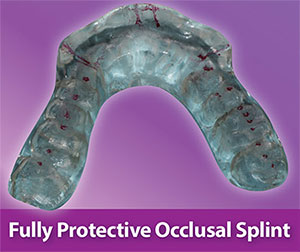 Fully Protected Occlusal Splint Therapy is just one part of the overall treatment together with plenty of rest, relaxation and pampering of the face.
Counseling by our team is probably the most significant aspect of treating your TMJ Disorder. Counseling involves identifying your Oro-facial habits and giving you appropriate Habit Re-training instructions. Our team excels in this because we care!!!
All splints are thick and protective in hinge bite, left bite, right bite and forward bite and it's designed to relieve your pain (not designed to look aesthetic by minimization).
This splint is thick for maximum facial muscle relaxation, protective ramps for forward, right and left jaw movements during sleep. Below are images of how the splints are worn and show you these in different positions.
This is a 3 Step Process
STEP 1. Occlusal Splint Therapy (Darvo Splints since 1984) including Counselling concerning Oro-Facial habits
STEP 2. Bite Adjustment (Spot grinding in hinge bite – occlusal adjustment – occlusal equilibration)
STEP 3. Bite Reconstruction (left, right and forward bites)
Fully Protective Occlusal Splints – Showing 4 Bite Types
Premature Tooth Wear – Age 22
Splints for Orthodontics.
Adjunctive Therapy
What exercises can you do for TMJ disorder or R & R?
We do not recommend ANY exercises for TMJ disorder because most, if not all patients begin to experience TMJ problems from their own para-functional (not normal function) habits on their teeth by grinding, clenching, pressing and manipulating their lower jaw into dangerous (damaging) positions.
These para-functional habits overload the face, TMJs, muscles and the jaw, in general, needs a rest, A BIG REST! Therefore, it does not need any exercise.
Rest, relaxation and pampering of the face are recommended by Your Dental Specialist. Our staff will counsel you about breaking any oro-facial habits and will advise of many useful ways to pamper your face and relieve pain and tension.
Hand in Hand Treatment
My Heat Buddy is your best buddy. To work in conjunction with the occlusal bite splint and to ease the aching, pain and tension in your jaw we recommend a Heat Buddy. This is like an electric blanket with three heat settings and placed around your face. Your Dental Specialist will give you precise advice on how to make the best out of your Heat Buddy.
Positions when sleeping (Sleep Posture Analysis – Since 1992)
We all have our favourite pillow and positions we find most comfortable to sleep but there are some things to consider when you have a disorder of the TMJ (TMD). We will evaluate your sleep posture during one of your splint adjustment appointments so that you don't place undue strain on your shoulders, neck, jaw, and TMJs.