Dr Florian Mack Talks About Recall Appointments For All Types Of Dentures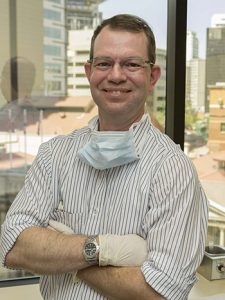 Patients often ask many questions to do with all kinds of dentures, whether it's about full, partial dentures or implant retained dentures. In this blog I would like to address some the main concerns people have, and how to eliminate any potential problems.
In our society, in this the twenty first century, people are living longer and have higher expectations for general health, oral health and quality of life than they did in the previous generations. But because of their age, these patients may be subject to certain limitations and often require special dental care, especially those who have been medically compromised or have misalignment of teeth. Their challenge is then finding a specialist or practitioner who is experienced and skilled in all areas and all types of dentures and treatment.
Why is a denture recall necessary and recommended?
In summary, regular recalls will slow down tooth loss as early signs of gum disease can be detected and treated. For those with Telescopic dentures or partial dentures, keeping your own teeth is important as it keeps the denture in place, allowing you to maintain your chewing ability.

Denture recalls allows us to check your bite and your TMJ (TemporoMandibular Joint – commonly known as the jaw joint) to detect early stages of TMD (temporomandibular joint disorder) such as clicking or popping in your jaw joint.
By checking your teeth and oral hygiene this will prevent cavities, gum diseases and tooth mobility. Checking your mucosa under the denture and in your mouth should detect any early stage of cancer.
This is important to maintain your teeth for as long as possible. It is also vital that this compressive examination is done by a specialist or dentist with knowledge and awareness of these conditions, for all patients, no matter your age.
How often should I go to the recall appointment?
Depending on general health and oral hygiene habits, your dentures, mucosa and teeth should be checked every six to twelve months. More frequent recalls of every three months is recommended for patients who have had chemotherapy, radiation therapy or who have had significant weight loss or weight gain, as the gingiva or oral mucosa changes significantly.
What should routine examination entail?
After developing an examination routine as an examiner in a public health related studies in Germany, 2000 – 2005, I observed more than 1000 patients. Therefore, this comprehensive examination is a standard practice for all patients visiting my private practice, as it covers the oral cavity including teeth mucosa and gums, your TMJ and facial muscles that's used for chewing, and facial skin.
What does this routine examination consist of?
This routine examination includes:
Every two years or earlier it is recommended to check and update the list of medications as some medications cause dry mouth and will affect the retention of dentures and may carry risk.
Check teeth for caries decay and root surface decay and check margins for restoration of decay.
Check teeth for gingiva recessions and abrasions.
Measure pocket depth and attachment loss for periodontal diseases.Take PA x-rays or and OPG of the teeth (large x-ray showing all teeth on one photo) at least every two years. Single PA-rays are required in particular for those teeth that hold the denture in place.
Check mucosa and gingiva for any abnormal changes. This is very important in older people as unchecked changes could end up with nasty and severe surprises like oral cancer.
Check abutment teeth thoroughly. Abutment teeth are teeth that hold the denture in place. They are the important piles and losing one abutment could result in making a new denture in some cases.
Check the patients overall oral hygiene as with increasing age their motor skills may deteriorate over the years. An oral hygiene arrangement should be developed and updated addressing the patients' needs.
Check the fit of the pink parts (saddle) of the denture as gingiva is constantly receding. Studies show that on average gingiva recedes 0.1mm annually in the mandible and 0.2mm in the maxilla for healthy patients. A reline is recommended every 1-2 years for any removable denture.
Check dentures thoroughly for fractures or broken clasps.
Check that patient is cleaning dentures as recommended or if further instruction is needed.
Check the removal and insertion of the denture. For some aged patients the manual dexterity might change due to change of health status or after severe illness. Eg. Stroke patients might have lost mobility on one side of their body, therefore oral hygiene is compromised.
Check the retention as some patients report about the retention of the denture and complain if it's loose. In some cases the retention fits too tight and can't be removed. In this case the specialist or dentist needs to refit and adjust the denture.
In my recall examination I consistently check the denture teeth for abrasions, occlusion, forward, right and left protected bite to prevent TMD. Checking the occlusion and the other 3 bites is very important and should be a part of any general examination.
Dr Florian Mack – Denture Specialist – Branch locations Brisbane and Gold Coast. If you are having problems with your dentures or implants Dr Florian Mack would the person to help you. Call 1300 650 641 or Contact Us and we will arrange a consultation at your convenience. If you have a question you would like answered, just send it in.
Share